Click's efforts to raise money for our chosen charity, Shelter, were kicked up a few gears last week with five of the Click team completing the gruelling 178 mile Coast 2 Coast challenge.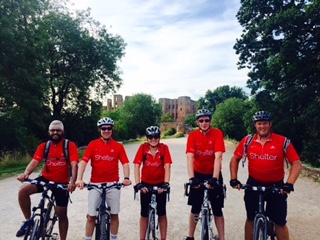 Following the Hadrian's Wall cycleway, Louise Sullivan, Chris Butler, Gareth Harris, Richard Box and Tajinder Singh cycled from Ravenglass, in the Lake District, to South Shields over the course of 3 days and raised £1,595 for Shelter – this was then matched by Click, upping the total to an amazing £3,190.
The team began their training a couple of months back, wanting to feel confident in their ability to complete the challenge and do a great job for Shelter. Despite a disastrous first attempt at a 60 mile cycle, during which tyres were punctured, gears were locked, chains got stuck and cyclists took a tumble, the team persisted with their training, fitting evening and weekend cycles around their day-to-day family lives and full time roles at Click.
Although the 178 mile cycle was challenging, with a few a bumps and scrapes along the way, the team stuck at it and reached their final destination in South Shields in good time, receiving rapturous messages of congratulations from their friends, family and colleagues.
In support of their colleagues and to boost the total amount of money raised, the people back at Click HQ decided to hold an office cycle on a stationary bike. Looking out over scenic views of of Birmingham, the in-office cyclists managed to complete 290 miles and, sponsored £2 a mile by Click, raised a further £580 for Shelter, taking the total to a brilliant £3,770.
Shelter helps millions of people across the UK who are dealing with homelessness or bad housing and campaign tirelessly to ensure that one day, their services will no longer be needed. Shelter are Click's chosen charity for 2016, so watch this space for details of Click's further fundraising efforts that will be taking place over the next few months.