Despite the bitter temperatures and dreary rain outside, the atmosphere at Click Travel HQ was warm and glowing this afternoon as we welcomed Birmingham Children's Hospital in order to present a donation of £13,831.
As part of Click's commitment to providing 1% of its profits to charitable organisations each year, the whole business spent 2016 raising money for the local hospital after it was voted as Click's Chosen Charity by employees.
A cause close to the hearts of many of those at Click, Birmingham Children's Hospital supports thousands of children and their families that need treatment and care every year. The donation will go towards the hospital's Star Appeal to raise £3.65 million in order to create the first children's Rare Diseases Centre here in the UK.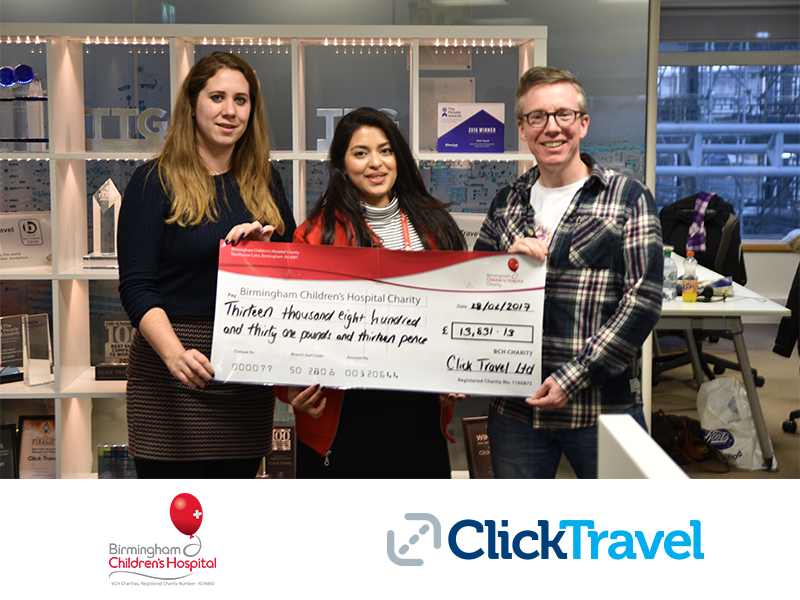 Natalia Solanki, from Birmingham Children's Hospital's fundraising team, explains "Children with rare or undiagnosed medical conditions can face huge challenges and obstacles as they grow up, with endless hospital visits and a lack of any clear information. With the help of donations like this one, this new Centre aims to provide coordinated care, treatment and support to help brighten the lives of our little stars."
The donation comprises of £13,000 donated by the board at Click Travel, with a further £831 raised by the fundraising work of Click's employees through events such as the Big Bandage Event and Easter egg and arts and crafts donation.
Click Travel's managing director, Jill Palmer, was keen to praise the work of the hospital, "We're delighted to be able to present this donation to Birmingham Children's Hospital, who do incredible work every single day, supporting children and their families through challenging times. At Click Travel, we provide one per cent of our profits each year to a charity chosen by our staff, and combined with the great fundraising efforts of the team at Click, we're so pleased we can donate £13,000 to this important local cause."