Access to WiFi is a basic human right.
Or, at least, some people think it should be.
Whatever your views on the availability of free WiFi, it's likely that you've been caught out in The Big Free Wifi prank. That's where a train or hotel (or literally any other kind of establishment) proudly offer free WiFi to their customers, only for their customers to eventually find that the WiFi is The Worst – it cuts out in the middle of an important late night work session, or switches to a go slow when you're downloading some slides for tomorrow's important presentation.
Cue frustration, panic and even a red face when you're winging it during that presentation.
So, how can you avoid this and find some free WiFi that's actually reliable.
Fear not, there is, as always, an app for that…
Wiffinity
Free on Apple app store by Wiffinity.
Working across both iPhones and iPads, this app shows you nearby hot spots and lists the address of the destination.  It can also be used like a 'Google Maps for WiFi', with locations pinned over a street map. Maps can also be saved for offline viewing, just in case you're really stuck for a connection.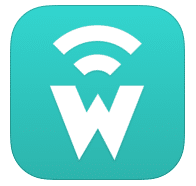 Wi-fi Finder
Free on Google Play by JiWire, Inc.
This app not only scans the local area for suitable WiFi but also tells you which is the strongest by comparable percentage. If you travel to the same location often, you can even add certain WiFi spots as favourites so that you can connect easily every time you're back within connection distance.

Wifi Analyzer
Free on Google Play by farproc.
Finally, for those who are a bit more tech-savvy, you might prefer Wifi Analyzer. Often used by IT professionals for testing and diagnostics of routers, this app can also be used to find the least congested network. Additional features include checking WiFi speed and the strength of signals over time to see which has the most steady connection.
If you love being able to check your business travel plans on any device, wherever you go, sign up toClick Traveltoday! It will revolutionise the way you book your travel.