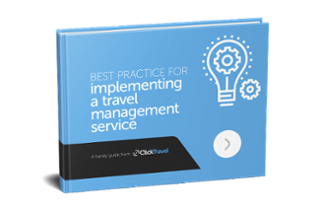 Free Guide: Implementing a Travel Management Service
Learn how to plan, train and communicate for a super smooth implementation
What's in the Ebook?
Use expert knowledge and strategies in order to hit the ground running with your new TMC.
After reading this 19 page ebook, you will be able to:
Set the right objectives to get results from day one
Organise realistic timelines to keep your project right on track throughout
Ask the right questions to make the very best use of your TMC's expertise
Pinpoint the perfect data to provide to your TMC to keep the process moving
Communicate successfully with key stakeholders to ensure a smooth transition
Understand and request the right training for the right people from your TMC
Keep your TMC on their toes to make sure of swift success
Grab your free copy of this guide by filling out the form on this very page!