An online business travel booking platform with more choice, better rates, total control
Whatever your budget, whenever you need to book, wherever you need to go, our platform puts you and your team in pole position to find the right hotel for your next business trip.
Live room availability at over 2 million hotels around the world means you'll quickly find a hotel that keeps your team happy, whilst an intuitive booking process clearly displays all need-to-know information, giving you speed and efficiency when it comes to managing multi-room bookings.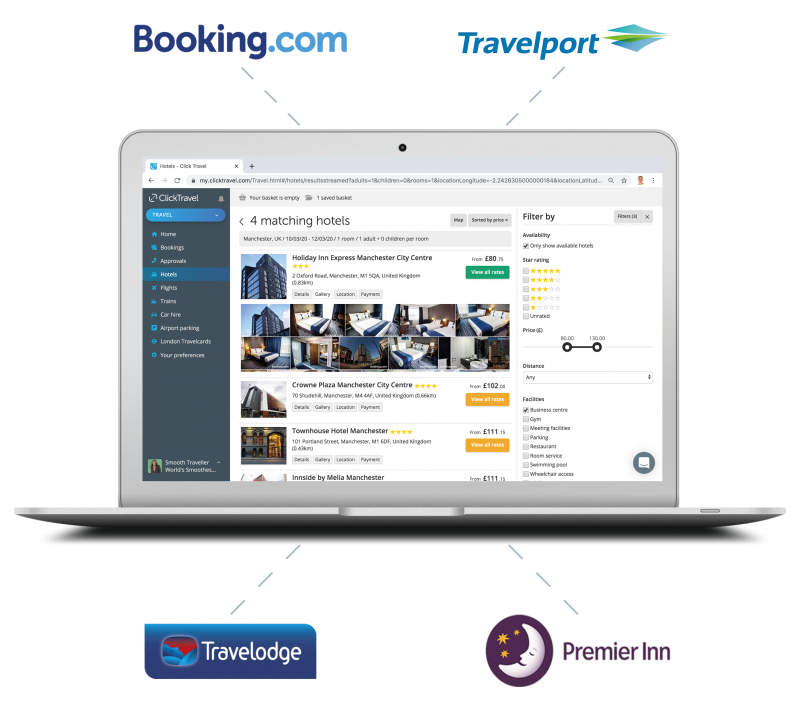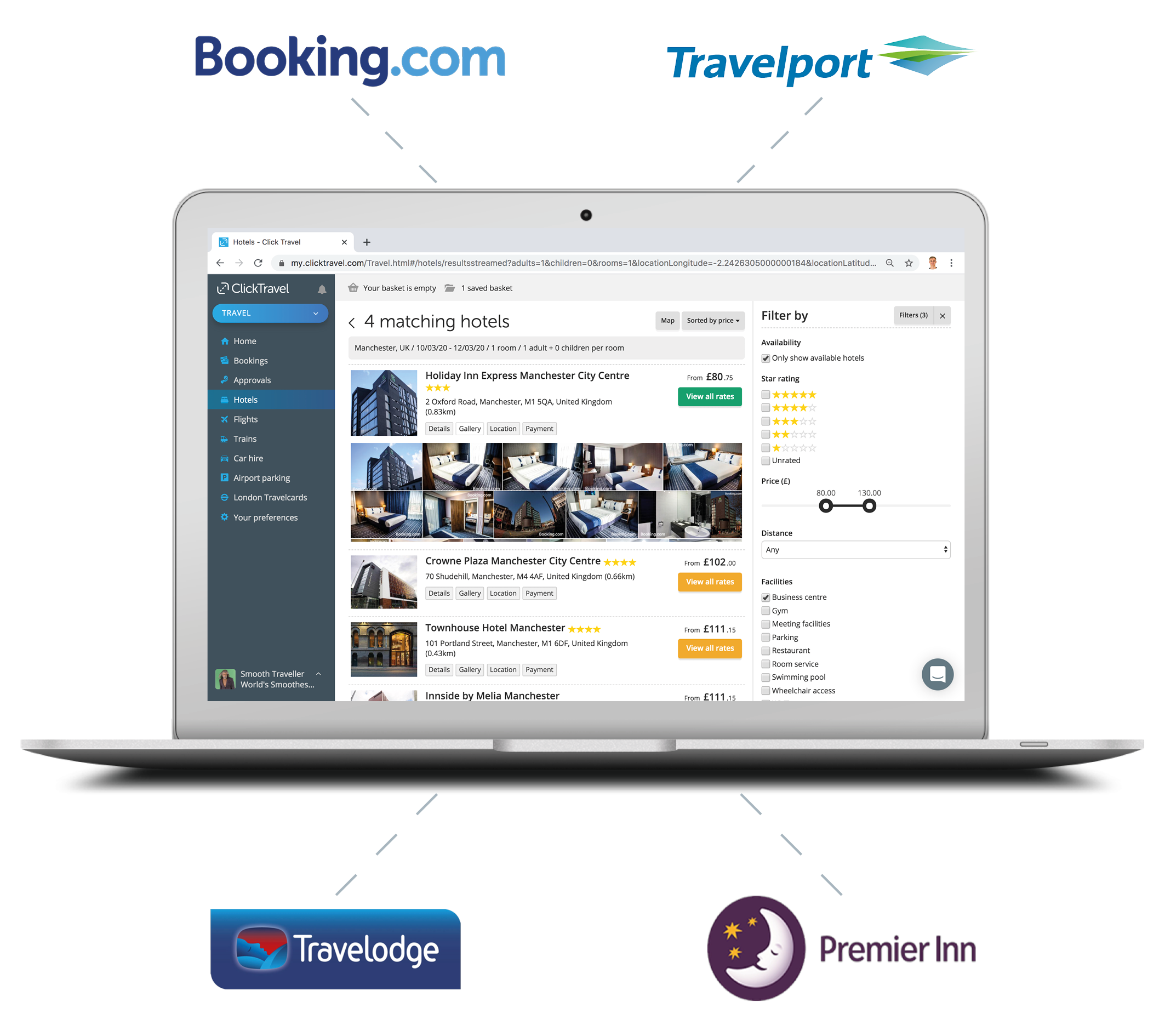 Partnerships designed to give you better choice and competitive rates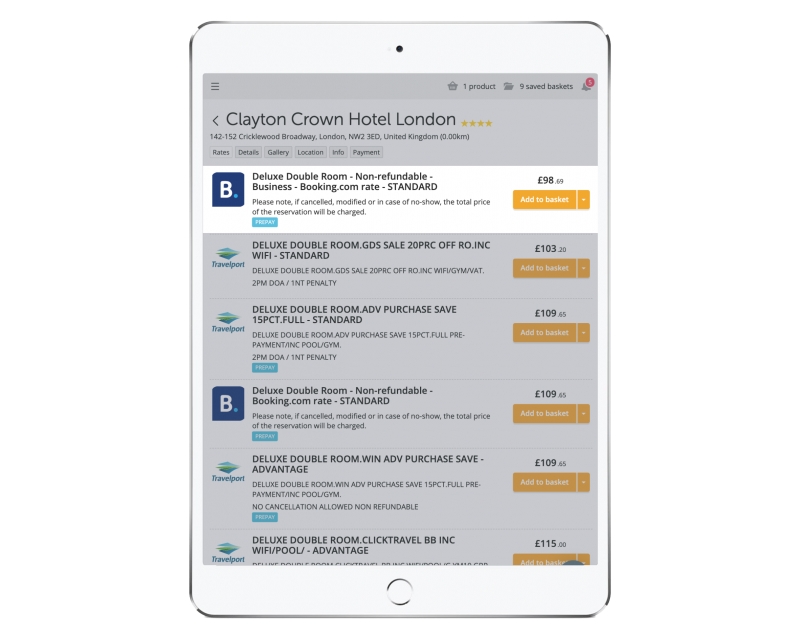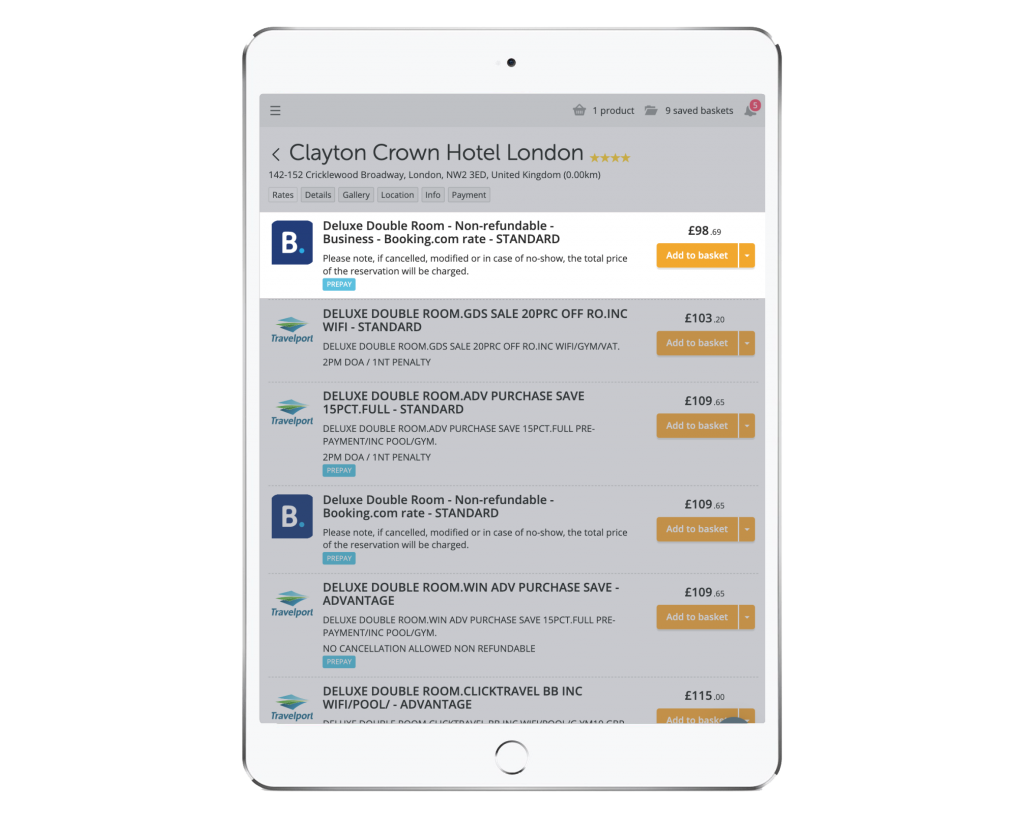 Discounted rates partnership with Booking.com
Customers can benefit from further discounted rates on global accommodation for business travel after we secured a second partnership deal with Booking.com. The new relationship expands on our previous partnership, which integrated Booking.com's exclusive accommodation rates into our booking platform, by providing an additional 10% business travel discount.
With these special rates available at tens of thousands of participating Booking.com properties around the world, there are significant savings to be made. These new rates are seamlessly integrated into the platform alongside other rates so you can compare and select the best option for your trip. Travellers may also find themselves with more choice available, due to more hotels now potentially being within corporate budget.
Direct links to Premier Inn and Travelodge
To make booking your next business trip within your travel policy easier, our booking platform has direct API connections with Premier Inn and Travelodge, meaning you no longer need to book these direct and still benefit from rates supplied directly from the hotel.
Premier Inn only sell on their website, but our customers can book and manage their Premier Inn booking within our central platform while still being able to control compliance, and utilise their central payment solution rather than having to pay by credit card direct.
Travelodge rates are also displayed on our platform, direct from themselves alongside other rates from booking.com and Travelport, giving your travelers the flexibility to choose the most cost efficient option.
This means leakage is reduced, costs are visible on reporting and we can support your travellers 24/7/365.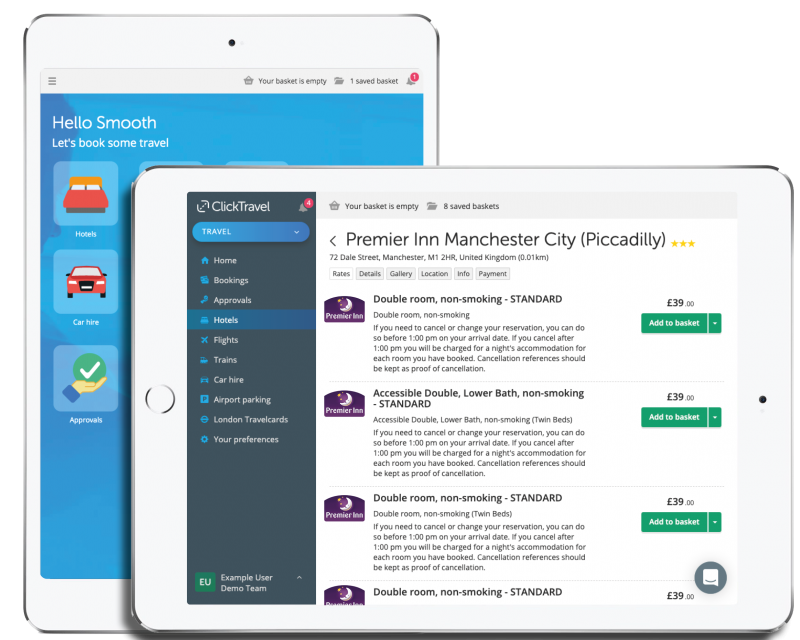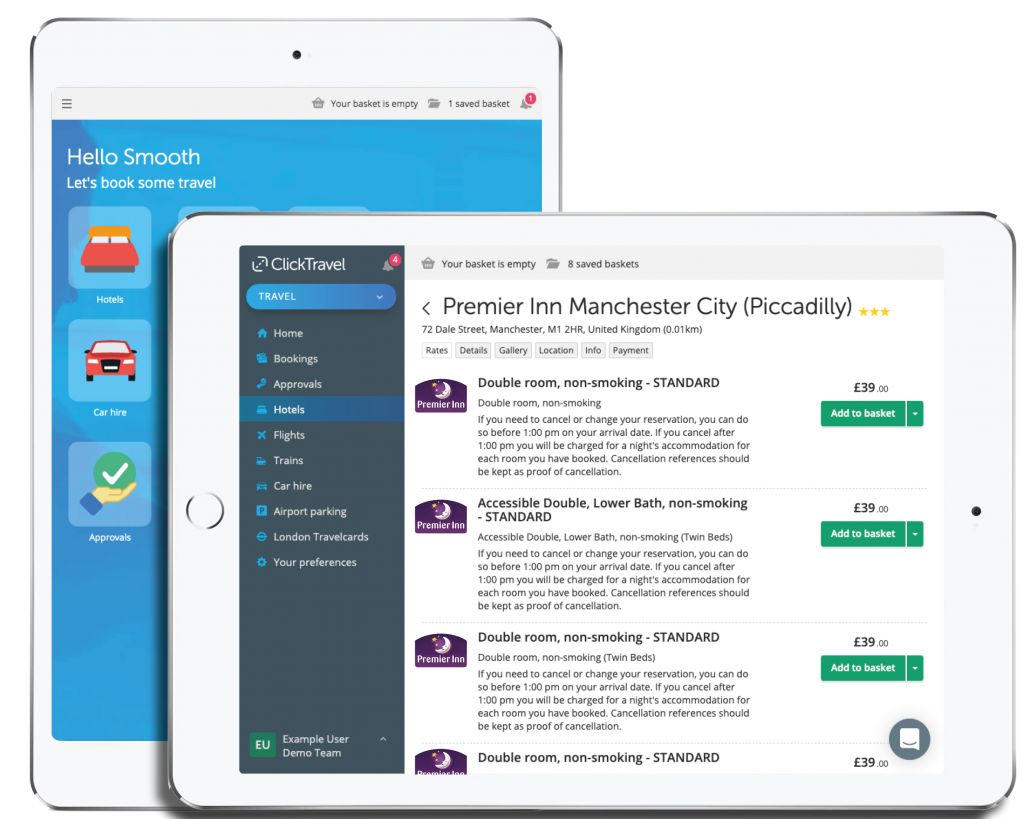 Save on fees with high online adoption
Manage all bookings in one place
Customisable policy controls
Downloadable spend reports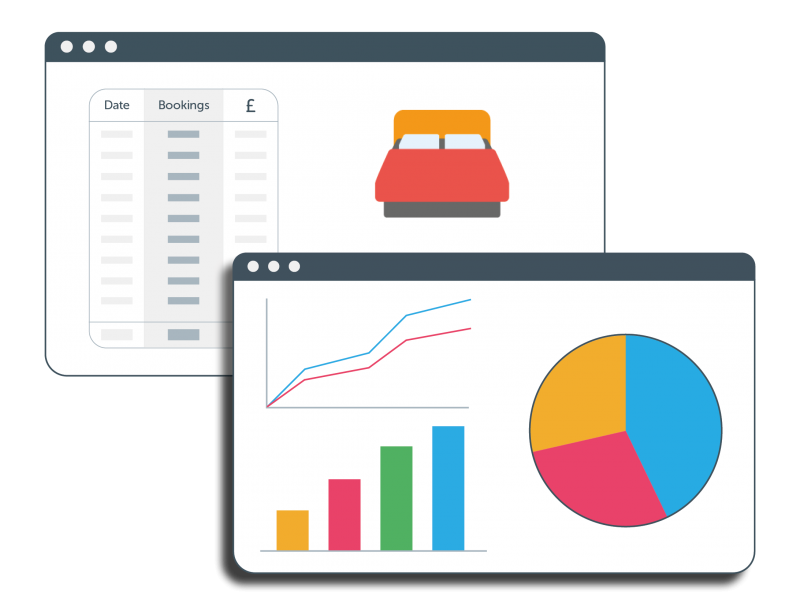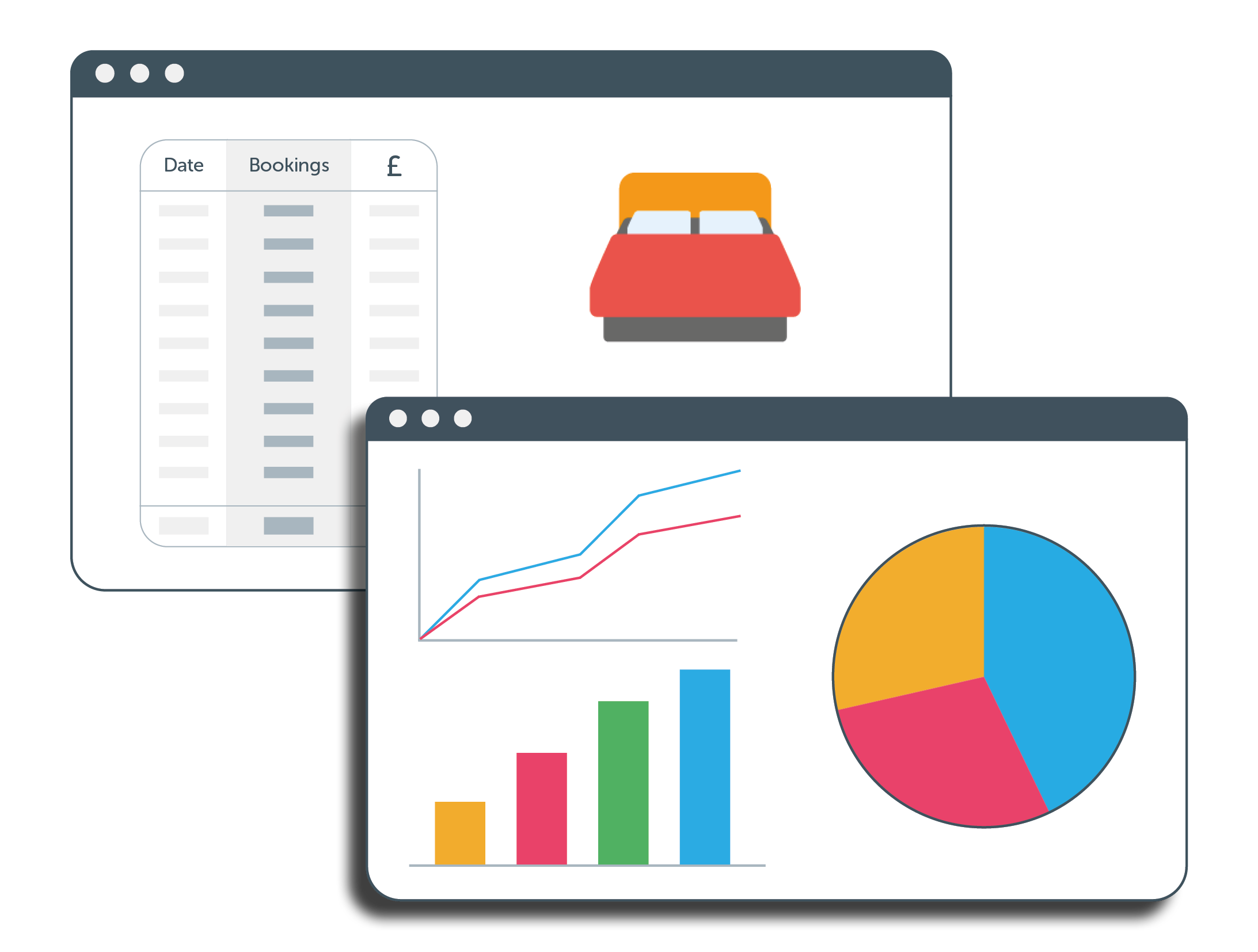 Delivering Savings
If you've got the travel of an entire organisation on your shoulders then Click Travel can take the load off, delivering savings on your hotel spend whilst also taking care of your travellers. We'll implement customisable policy and approvals controls and advanced traveller tracking functionality, whilst our award-winning account managers will provide you with expert rate negotiation, RFP knowledge and savings strategies.
Hotel price guarantee
We're certain you'll find the lowest prices on our booking platform meaning you don't need to shop around, or book direct with different suppliers to get the best rates. To make sure we're always giving customers the best rates, our hotel price guarantee means if you find your hotel stay for cheaper elsewhere, we'll refund you the difference. This adds extra security to your travel compliance and budget and makes sure you're only focused on the things that are important to you – a successful business trip.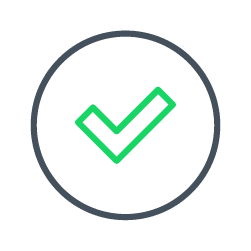 No more hotel headaches.
Get in touch with our team to find out more.